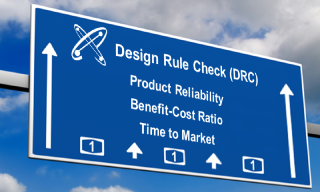 Gehen Sie auf Nummer sicher! Prüfen Sie Ihr Leiterplattendesign auf seine Produzierbarkeit mit dem innovativen Design Rule Check (DRC) des PCB-Investigators!
Durch ein perfekt durchdachtes und gestaltetes Leiterplatten-Layout lässt sich nicht nur die Ausfallhäufigkeit (ppm) reduzieren, sondern auch die Produktionskosten verringern! Zusätzlich kann die Zeit zur Serienreife (time to market) durch weniger Rückfragen des Leiterplatten-Herstellers beschleunigt werden!
Die bereits vordefinierten Prüfregeln können ebenfalls leicht mit dem neuen Rule File Manager durch eigene Regeln ergänzt werden. Dabei können Regelsätze gemäß Firmen-Normen oder Lieferanten-Anforderungen erstellt werden.
Innerhalb weniger Sekunden wird das komplette Design auf seine Produzierbarkeit geprüft:
Kupferabstände / Leiterbahnbreiten
Restringe für (Laser-)Bohrungen und Kupferpads
Lötmaskenfreisparungen für Bohrungen, Lötpads and Testpunkte
Kupferabstände zu nicht-durchkontaktierten Bohrungen
Bohrdurchmesser und -abstände
Fehlende oder doppelte Bohrungen
Freigestellte Kupferflächen und Abstandsunterschreitungen zur Lötmaskenfreisparung
Blindleitungen
Fehlende Verbindungen und Kurzschlüsse
…
Benutzerhandbuch:
Eine detaillierte Benutzeranleitung finden Sie hier.
Werfen Sie auch einen Blick in unser Video-Tutorial!
Gehen Sie bei der Produzierbarkeit auf Nummer sicher! Mit dem Design Rule Check des PCB-Investigators!